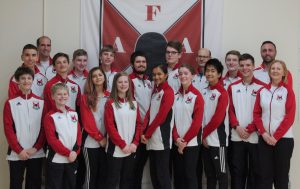 Our Pre-Competitive and Competitive Team programs are open to experienced fencers committed to a set training schedule and competing in tournaments regularly throughout the fencing season. These program starts in late August and continue through June of the following year.
Fencers in these programs are required to:
Have their own complete competition fencing gear
---
 Pre-Competitive Program – Fall Registration is now open, please use the waitlist!
The Pre-competitive program is for the fencer who is working towards competing regularly throughout the season. Members are expected to compete in local monthly tournaments and encouraged to travel to regional events. Fencers in this program work on developing their technical and tactical skills, as well as all aspects of preparation for competition. Monthly tuition includes two practices / week and the option for 1 weekly private lesson. Unlimited open bouting is included in this program. From our Pre-Competitive program students may be invited to our Competitive Team.
Fall Schedule 2018 for the Pre-Competitive program.
Mon 7:00 pm – 9:00 pm & Wed 5:30 pm – 7:00 pm
Tues 7:00 pm – 9:00 pm & Thu 6:00 pm – 7:30 pm
Please register for this program through the waitlist and you will be notified when a spot becomes open.
---
AFA Team – Apex Fencing Academy Competitive Team
Our Competitive Team is for the fencer who is committed to regularly competing in USA Fencing sanctioned tournaments at the local, regional and national level. The goal is to qualify for Junior Olympics and National Championships. Fencers in this program aspire to continue onto collegiate fencing. Our AFA alumni fencers have become members of UNC Tarheels NCAA Div1 program, Wellesley College NCAA Div3 program, Georgia Tech Yellow Jackets Fencing Club, Appalachian State Club, NCSU Club. UNC-Charlotte Club, St. John's College Club and more.
Fencers in the Competitive Team program have access to unlimited practice time, 2 private lessons per week and unlimited open bouting.
This program is by invitation only. If you are interested in this program, please contact us via e-mail apexfencingacademy@gmail.com to set up to time to discuss if this program is suited for you.
Wait list
If you are interested in a class but there are no openings, please register on the "wait list".  You will receive an e-mail when a spot opens up or if new practice times are created. Being on the wait list does NOT automatically enroll you when a spot becomes open. Those on the wait list will be offered a chance to enroll ahead of others who are not on the wait list.