The Novice Cup is held in conjunction with Apex Fencing Academy's monthly unsanctioned tournaments. The goal is to give fencers with less than 2 years fencing experience an opportunity to compete locally, accumulate points, and be recognized for their competitive achievements.
Each month, Apex Fencing Academy holds unsanctioned events for our fencing community. Traditionally, these are very well attended by our own fencers and fencers from clubs around the state. Staring in 2018 we added an additional twist to these events. If you've been competing 2 years or less at the beginning of the season, August 1st, then you're eligible to accumulate points in our Novice Cup. It doesn't matter what club you're affiliated with, sign-up on askFRED just like you always do, show up, let us know you're a novice fencer, and fence your best. We'll do the rest. At the end of the season, if you're at the top of the points list in your event category, we'll engrave your name on a plaque displayed in our club.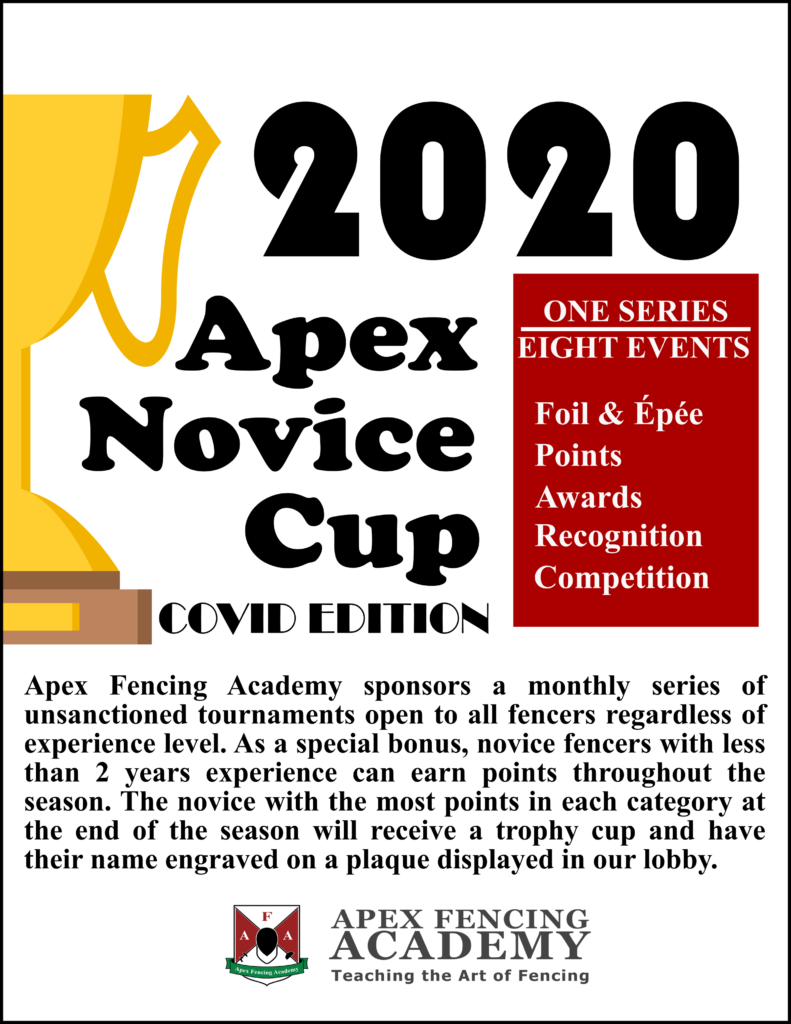 COVID-19 Edition
The 2020-2021 season will be a little different. COVID-19, extra precautions, and limited capacity have forced us to make some adjustments to our tournaments. We are hoping for 8 tournaments this season, but who knows if that's practical or not. Our first tournament will be October 3-4, 2020. We're spreading the events over two days, limiting spectators, and doing our best to create a fun and safe atmosphere. Details can be found on the askFRED signup page. We will be using this first tournament as a trial to learn what works and doesn't work before rolling out the rest of the dates. Please be aware, we are limiting the size of the events and giving early registration priority to our Apex Fencing Academy fencers. We will welcome fencers from other clubs, but we ask if you are not an Apex Fencing Academy member to wait until the Monday before registration closes to register. Also note, registration will close Wednesday before the tournament in order to allow our team to properly prepare for the weekend's events. Again, the details can be found on the askFRED signup page.
Who is eligible?
Any USA Fencing member who has been competing 2 years or less as of August 1st.
If I'm not from Apex Fencing Academy, can I participate?
Yes! You just need to be a member of USA Fencing with at least a current non-competitive membership
What are these points?
Novice Cup points are not associated with USA Fencing regional or national points. These are local points designed to foster sustained competition among our local fencers.
Are Novice Cup events separate from the unsanctioned events?
No, they are not. You will be fencing with fencers of various experience levels. Awards for 1st, 2nd, and 3rd will still be given to the top 4 fencers regardless of experience. The only difference is your standing among fencers with 2 or less years of experience will be recorded and calculated.
How are points calculated?
Similar to USA Fencing regional events, we will use the formula below:
((# novice entries – novice place + 1) / # novice entries) x 100
The highest novice finisher in each event, regardless of size of field, will earn the pre-set maximum point value of 100. ALL other point allocations will depend on the number of novice participants.
Where can I find the points standings?
Points for each event category will be kept in a spreadsheet linked on the Apex Fencing Academy website.
How many results count?
Your best 3 results over the entire season.
When is the winner determined?
After the last event of the season which is usually held in June.
What is the reward?
At the end of the season, the fencer at the top of their event standings will be recognized with a trophy cup of their own and their name will be added to a permanently displayed plaque at Apex Fencing Academy.
What if there's a tie?
Tied fencers will be recognized with a trophy cup and engraving on the plaque.