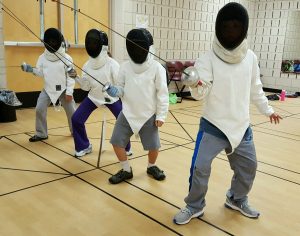 If you have been looking for a new sport for yourself or your child, our Youth and Teen and Adult intro classes will be the best way to try fencing. What can be more exciting than learning to use a sword! You will be introduced to the basic of footwork and blade skills to prepare them for "bouting" an opponent.
Introductory classes are based on an 7 or 6-week session.
Tuition is a one time fee that includes the 7 or 6-classes and all required fencing gear.
The Level 1 Classes are for those who are new to the sport. This class may be repeated several time.
Upon successful completion of Level 1, fencers progress to the Level 2 Intro classes.
Discounts are offered for enrolling multiple family members or for enrolling in multiple classes.
Students need to wear athletic pants and clean athletic shoes to class. No sandals, flip flops or jeans. Long hair needs to be tied back.
Apex Fencing Academy is a USA Fencing Member Club. All participants must sign up for a non-competitive, $10, USA Fencing membership.
Fencers with previous fencing experience, please e-mail us so that we can help you find the class that is the best fit for you. Upon successful completion of our Introductory program students may advance to our Recreational programs with Instructor's approval.
Private lessons are available, please e-mail us ApexFencingAcademy 
---
Youth (ages  7-10)
Our youngest fencers will be introduced to the basics of fencing in a safe and fun environment. Class time includes games and skills that will help develop fine motor skills, reflexes, eye-hand coordination, and focus, all of which are crucial to fencing.
**Please read the information at the top of the page

---
Ages 10 and up
If you are new to the sport or need a refresher of the basic skills, this class is for you. Fencers will learn basic footwork, blade skills, tactical skills and rules required to start bouting.
**Please read the information at the top of the page
---
Wait List
If you are interested in a class but there are no openings, please register on the "wait list".  You will receive an e-mail when a spot opens up or if new practice times are created. Being on the wait list does NOT automatically enroll you when a spot becomes open. Those on the wait list will be offered a chance to enroll ahead of others who are not on the wait list.