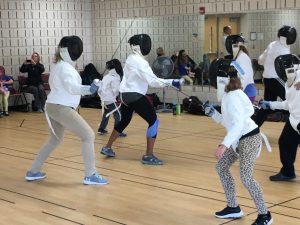 The Recreational Fencing Program is open to fencers who have successfully completed the Introductory Programs. Fencers will progress through intermediate to advanced skills at their own pace without the time commitment of a competitive athlete. This program is divided into several categories, so make sure to review all of them to see which one may be the best fit for you: Youth Recreational, Teen/Adult Recreational, Adult Recreational, and Home School fencing. Fencers in the Rec. programs are welcome to compete in our monthly tournament. Many of our recreational fencers remain in this program, enjoying the sport at their leisure, while others advance to our Pre-Competitive program or are invited to join our Competitive Team.
Recreational Programs starts in late August and continues through June of the following year, but can be joined at any point, as space allows.
Tuition is charged monthly.
Discounts are offered for enrolling multiple family members into our programs.
Students need to wear athletic pants and clean athletic shoes to class. No sandals, flip flops or jeans. Long hair needs to be tied back.
All required fencing gear is included in the monthly tuition.
Apex Fencing Academy is a USA Fencing Member Club. All participants in the Recreation Programs must sign up for a non-competitive, $10, USA Fencing membership. These memberships expire every year on July 31st, so make sure yours is up to date!
---
Summer Fencing – 4 week session
Keep your skills sharp over the summer. Recreational fencers have the opportunity to attend practices during this 4-week long Summer Session. Fencers have the option to attend classes one or two days per week. If you have vacation conflicts, please contact us to discuss options.
A 15% Discount is applied to the total tuition when enrolled in multiple classes.
---
Youth and Teen/Adult Fencing
Youth fencers have practices once per week while the Teen and Adult fencers have the option to attend class once or twice per week. Recreational practice times are 90 min long.

---
Adult Recreational Fencing
The Adult Recreational program is for those adults who are either brand new to fencing or have taken some introductory classes in the past. Fencers will learn/review the basic skills before they progress through intermediate to advanced skills at their own pace. Please register for the Wednesday 7:00 pm class option above.

---
Home School Fencing
The Home School program is scheduled for early afternoon so that fencers who are home schooled may attend practices at a time convenient for their families. New fencers are welcome to this program.
Wait list
If you are interested in a class but there are no openings, please register on the "wait list". You will receive an e-mail when a spot opens up or if new practice times are created. Being on the wait list does NOT automatically enroll you when a spot becomes open. Those on the wait list will be offered a chance to enroll ahead of others who are not on the wait list.