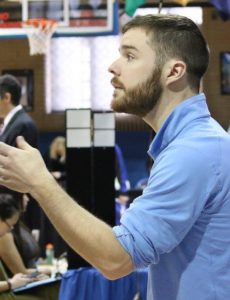 We are excited to announce that Joe Alter has joined Apex Fencing Academy as an assistant coach. He has worked with our fencers during camps and is now joining us to help coach the pre-competitive and competitive team practices Monday-Thursday. He'll also be handling many of the private lessons.
Joe has been fencing for many years, he attended UNC where he was on the team for 4 years under Coach Ron Miller and returned to UNC after graduation to help coach the foil team. Below is a paragraph from the UNC Ram's Club about Joe:
A native of Charlotte, N.C., Alter was a four-year foil starter for the Tar Heels and served as men's foil captain his sophomore through senior years. As a senior, he placed 19th at the 2013 NCAA Championships. He also made the NCAA field in 2011, as a sophomore, when he finished 23rd. As a senior, he earned Leader of Distinction recognition, the highest honor awarded by the Richard A. Baddour Carolina Leadership Academy.
Recently, Joe returned from coaching in China where he coached and taught English at the Raynor International Fencing Center in Qing Dao. In addition to working with fencers, he exchanged American coaching styles and techniques with the Chinese coaches.
Please make sure to welcome Joe when you see him, we are extremely grateful that he is part of our family.