Apex Fencing Academy fencers competed over Martin Luther King weekend at the annual Capitol Clash tournament. The largest youth SYC in the country, this year's attendance topped 2,200 fencers in Y10, Y12, Y14 and also regional Cadet. This tournament is a staple of our youth program and often brings our fencers their first introduction to national competitors in their age group. The scale and quality of the competition takes their fencing to a whole new level!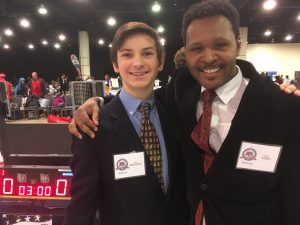 This year, 13 fencers made the journey to the Gaylord Resort at National Harbor, Maryland to compete in Y12, Y14 and Cadet events. Several were 1st time attendees with some never attending a sanctioned event, much less an SYC. Registration, check-in, equipment check, weights & shims, pods, and the immense size of the venue is quite the initiation into competitive fencing. Each one came to the event with different goals and aspirations. Not all met them, but everyone came away with an appreciation of the talent out there and the need to focus on each individual touch. Full results are on askFRED.
Apex fencer Abel Griswold used his off day of competition to make his out-of-state debut as a referee.  Under the watchful eye of Bobby Gibbs, he refereed pool and DE bouts for Y10 Women's Foil. In the afternoon, he directed pools & DEs for Y12 Men's Foil. Abel has been referee in North Carolina since March of 2017.
In addition to the fencing, friendships with fencers from other clubs were renewed and new ones formed. Out annual dinner at Sangjun Thai in Alexandria drew friends from ACN, FSA, and Fencer's Club/V.F.P. We may be competitors on the strip, but once the bout's over friendships resume.